Foundation
The Fooksman Family Foundation was established in 2018 by Eugene Fooksman. It aims to help shape the future of Israel, strengthen Jewish continuity, and promote Jewish life and culture in a post-exile era.
A central goal of the Foundation is connecting the wider diaspora community with Israel, which we view as the vital thread connecting Jews across the globe. As such, identifying gaps in this layered and diverse space, and working on thoughtful solutions to address those gaps, drives everything we do.
The Foundation is involved in unique projects spanning arts and culture, community building, consciousness raising and beyond. From fellowships and resourcing to mentoring the next-gen of philanthropic leaders, our model is above all one of partnership. We work with individuals and organizations who embody our vision of a bold new era of Jewish philanthropy; our partners champion Israel and Jewish life through their creativity, their innovation, and their intellectual courage.
Please note: Because we are constantly working to identify our potential grantees, the Foundation is not currently accepting unsolicited proposals for funding.
Eugene Fooksman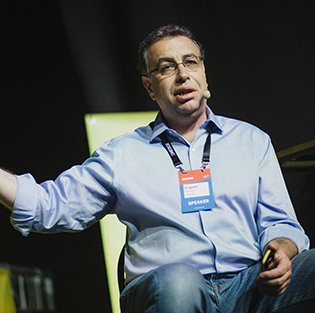 Eugene Fooksman is the founder of the Fooksman Family Foundation and a software pioneer. His philanthropic work follows decades of leadership in Silicon Valley, where as a key developer of messaging service WhatsApp he helped to transform the high-tech landscape.
Born in St Petersburg, Russia to a civil engineer and molecular scientist, Eugene immigrated to the US with his family in 1999. The Fooksmans settled in the Bay Area, where Eugene's career in startup life began. His professional success was soon complemented by philanthropic activity, driven by his commitment to Jewish continuity and the future of Israel.
This commitment has grown throughout Eugene's Jewish journey: from his leadership in a zionist youth group in St Petersburg to his immersion in America's Russian-speaking Jewish community. The life-changing connections he has forged, combined with his deepening emotional investment in Israel, have informed and inspired his philanthropic interests, which span community building, arts and culture initiatives, and the next wave of young Jewish philanthropists.
Eugene established the Fooksman Family Foundation in 2018 as a way to participate more fully in his philanthropy. With an eye for innovation that fuels social change, his driving force is positive impact on Israel as a strong nation state, and support of the Jewish world at large – in all its diversity.
Alongside his investments, consultancy and philanthropic work, Eugene enjoys spending time with his two children and experiencing the world through travel.
Contact us